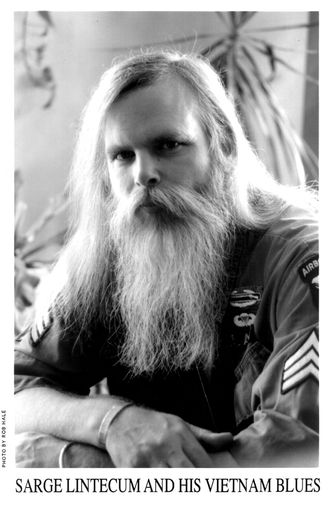 Sarge Lintecum is a three tour, highly decorated Vietnam combat veteran who earned a Purple Heart and a bad case of PTSD while serving with the 101st Airborne in '66, '67 and '68.  
After 20 years of a hermit like existence while dealing with the traumas of war, Sarge discovered writing about things he couldn't talk about gave him a great sense of relief. He wanted to feel that more so he decided to turn his writings into songs and learn the twelve bar blues on harmonica. He then started treking to open mic blues clubs an hour from his house not realizing these were the first steps in becoming a nationally accredited blues singer, songwriter, poet and harmonica master, sponsored by Lee Oskar Harmonicas. 
In his thirty three year career Sarge has performed at concert venues, blues clubs, schools, colleges and universities from sea to shining sea. He performs his Vietnam Blues Show with music from his Vietnam Blues - Combat Tested Blues... For Peace recording and his Post Traumatic Stress Disorder Blues recording featuring Lee Oskar and Sarge on harmonicas, Kenny Skaggs of the Glenn Campbell Band on steele guitar and Chicago's Barrelhouse Chuck on piano. Sarge's Vietnam Blues Show also features powerful poetry and storytelling. 
My Medals & Decorations